---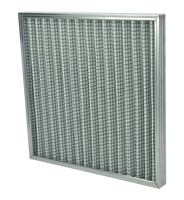 FILTRAIRE® Multipleat filters are made from polyester synthetic media, two sizes by welded galvanized wire mesh. To increase the surface area and provide rigidity, this structure is corrugated and retained in a metal frame. Depending on the environmental conditions of operation, frames may be constructed from either galvanized or stainless steel, they are produced in 40mm, 45mm, 95mm, and 98mm thickness. Different grades of media are available are to provide G2, G3, G4 efficiency options.
Application: -
Multipleat filters are designed for commercial and light-medium industrial applications.

They can be used in general air filtration systems and as pre-filtration to protect more expensive higher efficiency filters.

They are particularly applicable in humidity or coastal areas where disposable filters are quickly degraded and in applications which demand higher airflow through the filters.

Efficiency – G3-G4
Standard – EN779 / ISO 16890
ASHRAE 52.2 2017: MERV 6 to MERV 8
Frame – GI
Media- Synthetic Pleated Media with Wire Mesh Support
*For all the other Sizes/Efficiency please contact Factory